Shaka - J21 Sky Denim
Assomiglia moltissimo all'OPI I have a herring problem!
con la sola differenza tra il prezzo mostruoso degli OPI (13.90€) vs 1.99€ dello Shaka :D
Per ora la durata è ottima, dopo 2 giorni è ancora perfetto senza top coat e l'asciugatura è stata davvero velocissima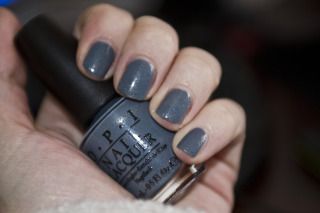 OPI - I have a Herring Problem
la foto mi è uscita leggermente più scura perchè l'ho fatta un pò di tempo fa ma si assomigliano davvero moltissimo :)
Gli OPI sono smalti ottimi (in genere) ma consiglio sono acquisti OCULATI su colori che sapete metterete molto. io preferisco cambiare lo smalto insieme alle mutande indi per cui i miei OPI si limitano agli offertoni/scambi!